---
Introducing Hybrid Exchange GRVT, zkSync's First Hyperchain Targeting the $2.9 Trillion Web3 Derivatives Market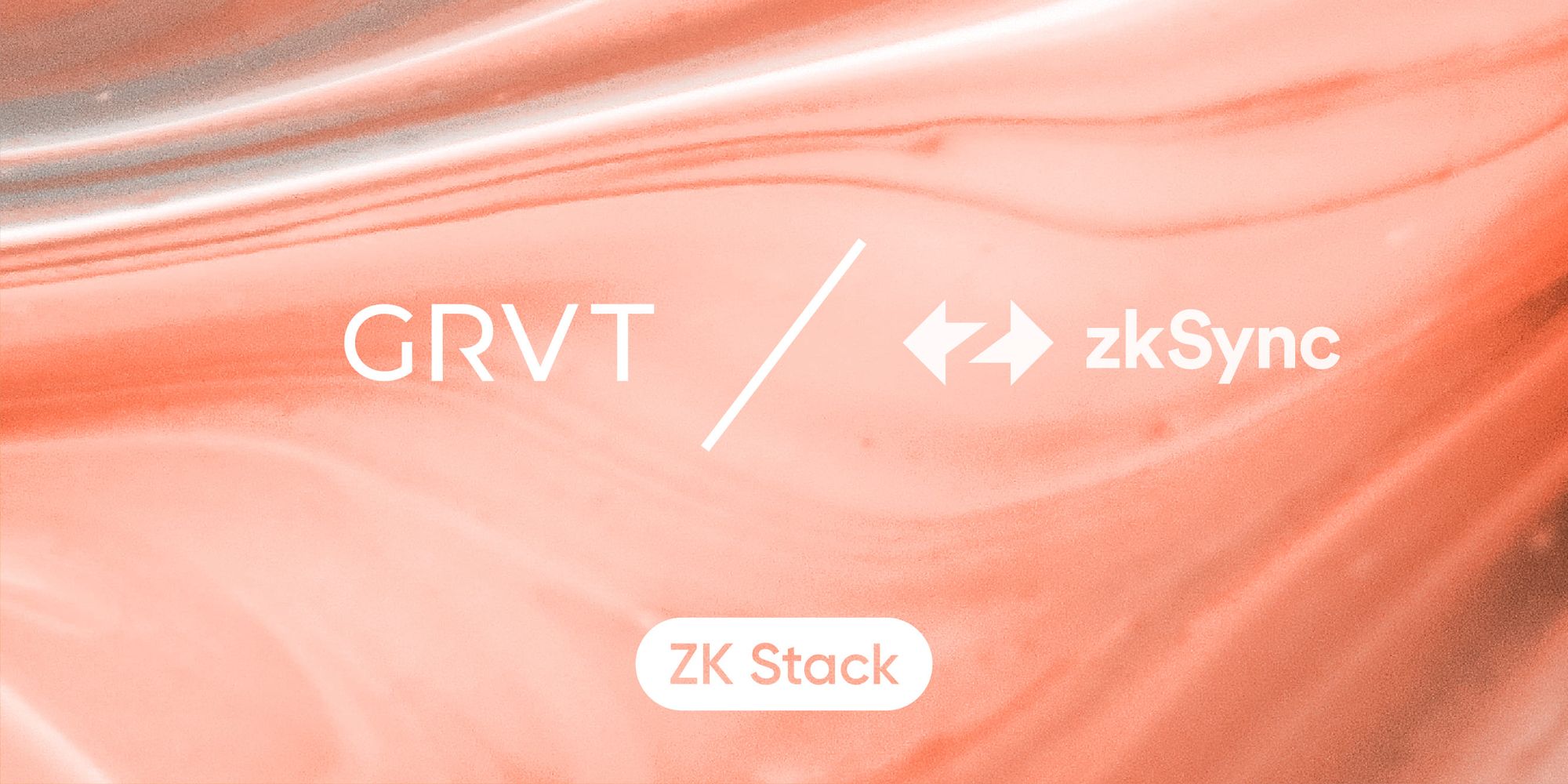 Published on zkSync mirror: Original ArticleOctober 20th, 2023
Blockchain technology has always set its sights on revolutionizing the financial sector, with goals ranging from extending financial services to the unbanked and improving payment efficiency, to driving radical innovation within the DeFi space.
While DeFi Summer in 2020 sparked experimentation and innovation, crypto is still waiting for mass market adoption of DeFi––but when will that happen?
Today we're excited to announce a new project blending the self-sovereignty of DeFi with the mass market user experience of CeFi: Hybrid decentralized exchanges (or 'HEX'). Meet Gravity (GRVT), a self-custodial crypto hybrid exchange. Think Robinhood user experience, but decentralized with self-custodial funds and wallets like Uniswap. This will operate as a Hyperchain using the ZK Stack, which can connect to every dapp running in the zkSync ecosystem, including sovereign hyperchains via hyperbridge.
Meet GRVT, The Hybrid Decentralized Exchange
Decentralized exchanges (DEXs) have become closely associated with self-custody, but at the same time, they've become synonymous with subpar user experience. The complexities of managing private keys, facilitating bridging, and depositing funds from external sources are critical obstacles to broader adoption by both end users and institutions alike. GRVT was built on the three foundational pillars of safety, simplicity, and scalability.
GRVT's hybrid DEX is pioneering a new model known as a self-custodial centralized exchange (CEX). It removes the complexities associated with Web3 UX by delivering a fully centralized finance experience while maintaining self-custody and composability.
The increasing risk in user security and custodial concerns have made apparent the necessity for more sovereign security properties.
GRVT is building for this exact reason, bringing an experience akin to what users on centralized exchanges are accustomed to while harnessing the security, scalability, and composable features of zkSync's fractal hyperchain network.
Beyond the often mediocre UX currently found on DEXs, there are other bottlenecks that need addressing, such as the speed at which trades are executed and data privacy guarantees.
"To create an exchange that serves both institutional and individual clients, we are focusing on scalability, on-chain data privacy, self-custody support, high TPS for fast settlement and clearing, and top-tier security. Meeting these demands, especially in options and perpetual futures trading, is computationally intensive and challenging. The zkSync Hyperchain, functioning as a private app chain, emerges as the ideal solution, seamlessly addressing all these criteria."
– Aaron Ong, Chief Technology Officer at GRVT
Leveraging ZK Stack to Enable 600,000 Trades Per Second
The ZK Stack is a modular, open-source framework that is both free and designed to build custom ZK-powered L2s and L3s (referred to as Hyperchains), based on the open-source code of zkSync Era.
At its core, the ZK Stack offers two key features: sovereignty with seamless connectivity. Builders such as GRVT possess full rights to the code and enjoy unrestricted autonomy to customize and shape every aspect of the chain.
Hyperchains are a collection of different blockchains, each with its own unique theme. Users can choose the Hyperchains that they want to use, and seamlessly interoperate between them.
The ZK Stack is the entry point for enterprises, Web2 platforms, institutions, and traditional finance into the crypto ecosystem. The level of customizability and modularity opens the door to innovations that were previously inconceivable, with each chain powered by shared provers and fractal scaling.
GRVT's decision to leverage Hyperchains stems from their need for high throughput, low latency, and a UX akin to CeFi while retaining their users' ability to self-custody. Hyperchains facilitate this by enabling GRVT to:
Build private app-chains (aka, Hyperchain) for custom sequencing logic, which allows for deterministically clear trades and achieves higher TPS and lower latency trade settlement and clearing.
Horizontally scale its underlying infrastructure across multiple interoperable Hyperchains, allowing traditional market markers to provide liquidity as they would on a CEX.
Enable gas-less trading by taking advantage of the Hyperchain's remarkably low gas fees.
Enhance accessibility to a wider offering of wallet providers.
Handle computationally intensive tasks such as complex business logic and risk scanning for derivatives trading, all while ensuring decentralization to maintain transparent and equitable trading conditions.
Custom sequencing logic enables GRVT to unlock CEX-like high throughput and low latency. On the other hand, an example of how GRVT can horizontally scale its infrastructure is by running different orderbooks as dedicated app-chains, with the expectation of achieving speeds of up to 600,000 trades per second with less than 2 milliseconds of latency.
This is a notable feature of GRVT; one of the main issues with traditional AMM-style DEXs is the inability of traditional market makers to provide liquidity as they would on a CEX.
Meanwhile, sensitive information such as margin balances and liquidations can be hidden by leveraging Validiums on a private Hyperchain. This approach stores trading data off-chain and encrypts it before adding it to the blockchain, thereby protecting users from front-running and market manipulation.
The New Internet of Value
For the traditional world of finance to come on-chain, the crypto ecosystem will need to look beyond better versions of existing solutions. Mass adoption will come through innovations and new use cases. GRVT's choice to build with the ZK Stack and deploy as a Hyperchain is an exciting addition to the ZK Nation. With new teams increasingly opting to use the ZK Stack, we're setting foundational principles for zero-knowledge technology to reshape the internet and make digital self-ownership universally free for all.
Beginning Your ZK Journey with ZK Stack
If you're an enterprise eager to join our mission, we invite you to get in touch via email at [email protected].
For more in-depth guidance and information, delve into our zkSync Era documentation available on the zkSync documentation page.